In this age group, students learn:
Gross motor skills, such as walking heel-to-toe
Fine motor skills, such as using a tripod grip when holding a writing utensil
How to cut out basic shapes
Basic alphabet shapes and sounds
That stories have a beginning, middle, and end
To follow-through with an activity or short project
To use words to reason or make arguments
To follow simple multi-step directions
Why it's helpful to share
To follow the rules and know why those rules exist
Austin ISD Partnership
Our Pre-K 4 classes are part of a partnership between Angels Care and Austin ISD to help prepare students for kindergarten. Our lead teachers have bachelor's degrees and are actively working toward their master's degrees in teaching. Additionally, our lead teachers undergo extensive teacher training and administer the latest, most advanced pre-k curricula available.
We are proud to be one of the few AISD pre-k programs with full-day care.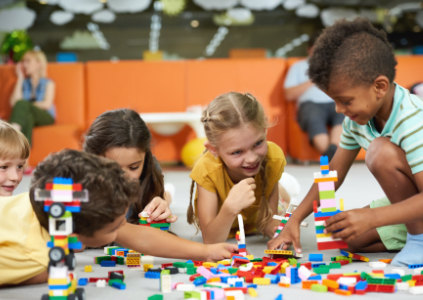 Monitoring Development
Every child develops at a different pace, so we're committed to providing personalized care and giving special attention to any signs of delayed development. You can be assured that our teachers have a keen eye for developmental goals and progress.

All of Angels Care teachers are fully dedicated to providing your child with the best possible learning experience by using the Frog Street bilingual curriculum which is based on years of research on how kids learn most effectively. To help avoid any sudden changes in schedule or teaching methods, we incorporate learning experiences into all aspects of our daily routine.
Do you have a child to enroll in Pre-K 4?